The Big Draw LA @ CicLAvia w/the Sumi Ink Club
(Young Summers & Ann Zumwinkle)
On October 6, 2013
during the City of Los Angeles'
recent CicLAvia biking event
over 280 participants jumped off their bikes
picked up a brush
and jointly added their thoughts, doodles, and brushstrokes in black sumi ink
to a long paper scroll over 35 feet long.
The end result was a collaborative crush
of refined brushstrokes
teen lovers' angsty scribbles
cartooned portraiture
expressions of unabashed affection for L.A. and the bike community
graffiti-ed words
an argument or two
and loads of fun!
SEGMENTS OF THE SCROLL: CLICK TO SEE LARGER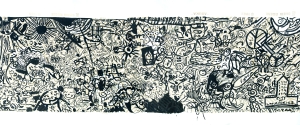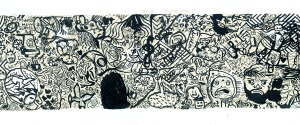 [ Can you find 2 pineapples, 1 beer can, a reindeer, a penguin, LA City Hall,
a skull on a flag, a VRR Fixie Crewmember, 2 cups of coffee, a black sun,
3 monkeys, a bird on a branch, a cell phone, and many many bicycles? ]
Ann Zumwinkle and Young Summers collaborate
with public participants to create unique works of art
that focus upon processes and concepts.
We are interested in social service practices
that enhance neighborhoods
and public discourse that educates interactively.
Photos by Justin McInteer.